Productivity is an important element in any endeavor. If a company wants to achieve specific milestones, then its leaders must ensure that the productivity of the staff is maintained at a certain level. Completing tasks and meeting deadlines are important for any organization, and it is the role of management to motivate the staff to improve their effectiveness and performance. 
5 Ways to Motivate Staff to Increase Productivity
Below are five ways to increase productivity of your employees.
Create a Family-Like Atmosphere
Having a family-like atmosphere at work doesn't mean that you treat your staff the same way you would treat your parents or siblings. It is more like how one treats extended family members, such as a nephew or cousin.
By treating staff members as family, one will have their best interests in mind all the time.
There are family members that you can't stand, and you talk bad about them. However, you will not stand for other people who talk negatively about them. This should be the same way you treat your staff members. It is important to ensure that employees know you have their back, no matter how you feel about them. And when worse comes to worst, you will be willing to fight for their rights. In return, employees will be motivated to work for you.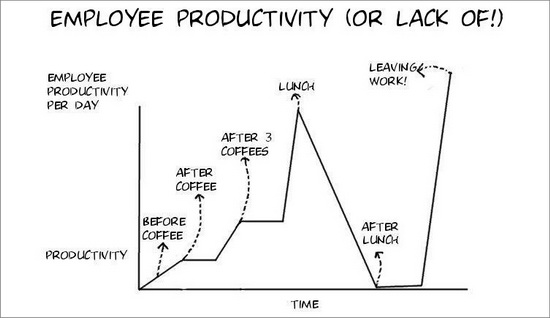 Let them have Slower Periods
Running a business is not a sprint. It is a marathon. Your staff can't be effective if they run out of gas and burn out. It is important to have some slower periods to guarantee success in the long run. That's why time management is important.
Managers must know when to take breaks and celebrate successes, even if the achievements were not what they want them to be.
Simple milestones that are important to the team should be celebrated. For instance, a team can celebrate the launch of a product, meeting certain sales milestones, or getting rewards for it.
Burnout is one of the most common causes of low productivity. Employees become demotivated. That's why it is important to slow down and allow your staff to relax every once in a while.
Develop Self- Esteem Rewards
People work harder when they feel appreciated and respected. However, it is important to remember that every person is different. There are people who want to be praised in private, while others enjoy having the spotlight on them. A good leader knows the type of recognition and praise that is preferred by each staff member.
Then one needs to develop rewards and incentives that will make the most impact on the staff.
It can be in the form of placing the person in charge of a project; train in another department, or lead a presentation to upper management. Your staff will work harder when they feel appreciated by their immediate superior. And when they are happy, their productivity will increase.
👉 Check also our list of employee recognition ideas
Better Communication
Your staff will not be motivated if they only know you as a name on an email or a face on a newsletter. It is important to keep an open line of communication that your staff can use. You should also make it easier for them to talk to you in person. This is one way to make staff feel they are valued for what they do. It is one way to your appreciation for their hard work.
It will also empower your staff when you ask them for their input with regards to how they can increase productivity and their performance.
More often than not, employees' think of ways on how they can be more productive, but they don't share it unless they are asked. And the best way to motivate your staff is to take their advice and implement them.
Help Yours Staff Grow
Employees don't want to be doing the same thing forever. People who see career advancement opportunities within the organization are more likely to stay on. As a leader, learning about the ambitions of your staff is as important as time tracking. Look for employees who possess characteristics of a good leader, and provide them a chance to prove themselves at work.
And once a position opens up in the company, make sure that employees know that your priority is to hire from within first before looking elsewhere.
A motivated staff will have better productivity compared to unmotivated ones. As a business owner, it is important to remember that milestones can't be achieved when the staff is not motivated.
5 Ways to Motivate Staff to Increase Productivity