In a marketing agency, many factors can determine our success. Thus, it is vital that we keep an eye on every client, task, project, but also on our employees. It is not easy, and we may easily miss an important chance, just because there is too much on our minds.
A great way to improve is to reduce the risk of human error to the minimum. When there is a need, there is also a solution. The market meets the needs of the marketing agencies, providing software that automates a majority of processes at the office, enabling both managers and regular employees to focus only on the most important tasks.
A huge number of marketing agencies has already invested in project management software. With the help of such tools, the productivity at the office is increased, and the workflow is much more coherent. As a result, the rate of success in companies that implemented such software is drastically rising.
Check our time tracking offer for agencies:
But perhaps project management software won't be of much help at your company? It is important to know, what we want. So first, try to think of these factors:
Why should I invest in the project management software? And in which one?
Is your marketing agency growing? Find a tool that can keep up with the pace.
Your customers are the most important. Find software that facilitates communication between them, and your company.
Has it got the features you need? Can it be integrated with other apps that offer the necessary facilities?
Can you adapt it to your needs? Will you be able to customize in a way that will give you the most efficiency, without having to spend hours learning about its features?
What features do you need? Perhaps there is no need to invest in a full-fledged project management software if you only need some basic options that a free app would offer.
Does it offer a decent communicating system? Are you able to contact your team members and clients in a quick and easy way? Can you attach files? Or perhaps all you need is an email integration?
Does it have native apps for iPhone and Android? Using it on-the-go may be essential
Will it require long hours to learn how to use it? Won't your customers and employees be discouraged by its complexity?
Why exactly do you need it? What are your goals? How can it help? Do you want to get rid of some bad habits? Do you need better organization? Enhanced workflow? Something else?
Conclusion?
Wow, that's a lot of questions. At least all that came to our mind while writing this. It is important that you give them a proper thought. Implementing a project management software in the company is a big step, so you have to consider all the pros and cons.
Usually, there are more pros than cons, and you will come to a conclusion that your business can benefit with the help of a proper tool. Right. But which one? Let us suggest a few possibilities:
P.S. Also, check our propositions from a similar article! Oh, here is another one. You will find in them plenty of vital information about marketing agencies and software that can make them grow.
TimeCamp
TimeCamp is modern software designed for monitoring and optimizing the efficiency of one's work. This tool measures the time spent by the user on computer activities. Then it categorizes them into those that are productive and those not related to the duties a user should be doing. It can be used both in the case of stationary work in the company and by the remotely working employees.
Here are some of TimeCamp's important features:
Automatically records time usage of each application running on your computer.
It shows the most frequently visited web pages with time allocated for browsing.
Monitors the time devoted to individual documents.
Easy budgeting of hours in projects – budgeting function lets you estimate how much time the implementation of individual projects will take, and thus effectively plan the use of human resources and make a valuation of future similar projects.
Integration with popular project management software such as Trello, Basecamp, Podio, Pivotal Tracker, Wunderlist, Jira.
Measures the working time by particular categories
Records the time spent away from a computer – detects when user ceased to be active and for how long it lasted.
If you are interested in TimeCamp and would like to gain more information before trying the product, we have a detailed article describing all the features of this software.
Producteev
Note: as of as of June 18, 2018, Producteev has been discontinued and is no longer available for use.
Producteev produces a cloud-based task management application. It equips users with means to manage multiple teams, they can create team projects, assign and schedule tasks, and track the progress of the work.
It offers features that allow users to set priority and deadlines, create subtasks, attach files, filter the project, export tasks, receive notifications and more. Producteev is integrable with TimeCamp.
Zoho Projects
Zoho Projects is a web-based online office suite with a set of features like word processing, spreadsheets, presentations, databases, note-taking, bug tracking, milestones, web conferencing, customer relationship management, project management, and invoicing.
Zoho Projects makes planning a project much easier. Users can set milestones to organize projects, customize tasks, assign ownership, and priorities.
The bug tracker has an elegant and intuitive interface, making bug tracking painless and simple. Users are able to export data and generate reports. Without having to install any additional software files can be created directly from the browser and tagged with labels to keep track of them.
⇒ Looking for Zoho time tracking solution? Check out our integration with Zoho!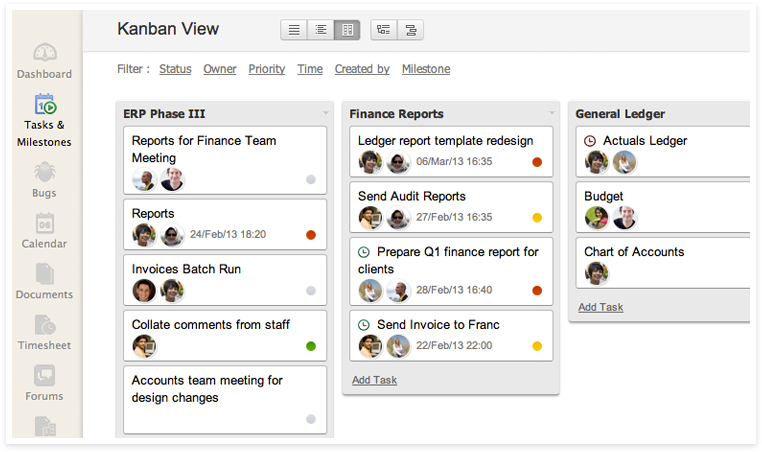 Teamwork PM
Teamwork Project Manager is an online teamwork and project management application designed to support high-performance teams. It is intuitive and noticeably boosts the performance of a team – managers can assign particular tasks to team members and monitor the progress of the work.
Among its components are to-do lists, milestone management (keeping everyone involved in the project up to date), the creation of web-based text documents, file sharing, and a messaging system. Teamwork's software is used by 260 thousand companies worldwide which gives an idea of how popular it is.
For an even better performance and accurate tracking of project's time, we can integrate it with TimeCamp.
Podio
Podio is an online platform designed to increase sharing and peer-recognition to foster great team cultures.  It creates the focus and clarity that a team needs to better perform. Podio is used by a variety of teams and organizations for a wide range of purposes. Its unique interface allows users to create customize their work tools and shape the way they work.
This software offer features like:
Elegant and intuitive interface with all the projects, tasks and actions displayed in one place
Customizable view of work – from simple tables to dynamic card boards
The open-plan online office and live, qualified support
Set of integrations including integration with TimeCamp
Kanban Tool 
Kanban is a well-known software among the freelancers. Most of them at least heard about it. If you have to manage a large project as a freelancer or remote worker, it is difficult to meet at one table and draw the scheme of the project on the board, or attach and detach sticky notes as the progress continues. Kanban Tool was created to help with such difficulties – on the virtual board that it provides you are able to easily manage tasks that are in the process of completing, or have been already done.
Basecamp
Basecamp time tracking facilitates the communication between team members – every user can contribute to the overall performance of the team. This software makes the working on a project easier, faster, and if the team has a positive attitude, it can even be fun to everyone!  It is used by freelancers as much as by big corporation teams.
Among time tracking Basecamp's features are customizable to-do lists, a message board with a set of options for the better team collaboration, reports, schedules, and much more. Users can set deadlines in their to-do lists, attach files to them and send notifications to their team members. Everything is intuitive and easy.
TimeCamp is one of the most popular Basecamp integrations, so integrate these two tools for an even better performance.
Clarizen
Clarizen is a great software for managing projects and motivating team members. It creates a friendly environment at the office with features that support efficiency and productivity of its users. In addition, you can make use of a functionality map of the project – a tool for monitoring the project and managing the sources used to create it. Clarizen has its own "market" of add-ons, plugins, and mobile applications that you can use to upgrade it and customize to your needs.
What Kind of Software is Best for the Marketing Agency?